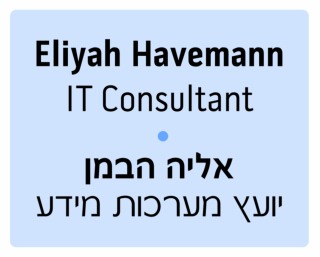 Eliyah Havemann, helping you with your IT projects in Israel and abroad.
My running projects:
Allot
Senior Product Manager - for DDoS and IoT security products
Allot builds DPI (deep packet inspection) and security solutions mainly
but not only for mobile operators
EU-Rack
CTO - chief technical officer and founder
EU-Rack provides internet access, hosting and IT consulting for business
customers in Israel (currently on hold)
Ludwig Verlag
Author
Eliyah published his own book in 2014. He also wrote a chapter in another
book. You can order both on amazon.de (links below). And yes: they are in
german only. Sorry. And no: they are not about computers or technology.

Q: Why isn't there more content on this site?
A: Because this is intended for people who receive an email from me and are
curious what is behind the domain eliyah.co.il
Q: You are an Israeli. Do all Israelis have three jobs?
A: Yes
Q: Why is this so?
A: Because they can't find a fourth.
Q: Are you looking for a fourth?
A: If you have an exciting project that I can add to the above list, contact me!
Q: This website uses very simple HTML. Why?
A: I created my first website in 1996 with a text editor, and so is this one.
This is where my skills in web design got stuck. I was more thrilled by layers
one to four in the OSI model. So please forgive the simplicity of this website.
But I bet it will still look good in an old Netscape browser!